Nudge the Future Vol. 2 (available April 2019)
---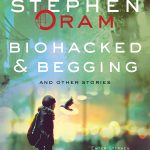 The future is ours and it's up for grabs…
Immerse yourself in the future of biohacking and implants, genetic modification, blockchain micro-transactions and futuristic dating-apps with author of Eating Robots, Stephen Oram.
Prodding and poking the possible in Vol. 2 of this Nudge the Future series, Oram starts with another foray into the world of Unified Sentience and ends with virtual reality for babies and biohacked fish.
With sharpness and wit, these sci-fi shorts will grab your imagination and refuse to let go.
---
"Can humans remain "more than digital, more than flesh" with detachable limbs, multiple ears, implants that can be hacked and nanobots that can be ingested? These thoroughly enjoyable and contestable futures explore the personal and political implications of fleshy and messy encounters with contentious technology and the epidemic of algorithms." Stelarc, Performance Artist.
"The more we surround ourselves with technology, the more uncanny our lives become.  Enter Stephen Oram: with Bradbury's clear-sightedness and Pangborn's wit, he pulls ways to live out from under modernity's "cacophony of crap"." Simon Ings, Arts Editor, New Scientist.
---
Stay informed…
Subscribe to this list if you're interested in knowing when Biohacked & Begging is available for pre-order and for purchase. This list will not be used for any other purpose than to inform you about Biohacked & Begging.