Join the Eating Robots pre-release mailing list for information and special offers
---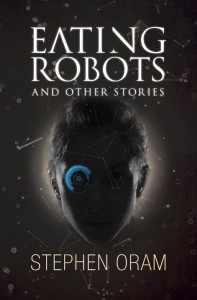 Virtual Futures' Author in Residence Stephen Oram's first collection of 30 SciFi shorts takes technology and humanity, mixes them up a bit and plays with their futures.
This edition also includes responses from scientists working in the field.
We start with a man who escapes from the trap of his health-monitoring, implant-adjusting mirror with disastrous consequences and end with a tele-empathic romance in a world where your skin is designed to crack and flake if you avoid physical human contact.
Along the way we're introduced to the part-sentient and naughty moss, the agony of Christopher who took out a loan for bionic limbs, but couldn't afford the repayments and the cellar full of discarded, disaffected and dangerous Thrown Away Things.
Oram's imagination runs wild in places, but there's always a thread of stark reality tugging at the bright promise of a technical utopian future; sometimes dark, sometimes light, but nearly always with a word of warning.