BIOHACKED & BEGGING and OTHER STORIES
Nudge the Future Vol 2
Published 12th April 2019
"Enter Stephen Oram: With Bradbury's clear-sightedness and Pangborn's wit."
Simon Ings, New Scientist
"Oram sees what few other SF writers see – the perversity of our everyday
relationships with new technologies – and thrusts that vision five minutes into the
future." Dan O'Hara, Editor of Extreme Metaphors: Selected interviews with
J. G. Ballard, 1967 – 2008
Where technology meets humanity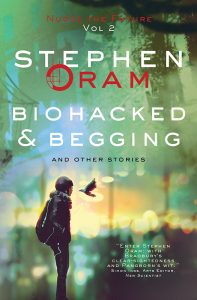 A powerful new collection of 25 near-future science fiction shorts that explore where our technology may be taking us – for better or for worse.
Stephen Oram is regarded as one of the premier craftsmen of near future science fiction. He is lead curator for near-future fiction at Virtual Futures and is on the writers' panel for SciFutures (Sci-Fi prototyping for businesses). Oram's stories often come from collaboration with scientists working on the leading edge of technology. He is available for interview.
The follow-up to the popular Eating Robots and Other Stories (Nudge the Future Vol 1). The stories can be read in any order.
The book contains a special section of responses from expert scientists,commenting on how the stories reflect the future of technology and humanity.
Immerse yourself in the future of biohacking and implants, genetic modification, blockchain micro-transactions and futuristic dating-apps with the author of Eating Robots, Stephen Oram.
Prodding and poking the possible in volume 2 of Nudge the Future, Oram starts with another flash fiction foray into the world of Unified Sentience and ends with virtual reality for babies and biohacked fish.
With sharpness and wit, these sci-fi shorts will grab your imagination and refuse to let go.
About the Author
Stephen Oram writes social science fiction and enjoys working collaboratively with scientists and future-tech people – they do the science he does the fiction.
He's been a hippie-punk, religious-squatter and an anarchist-bureaucrat; he thrives on contradictions. He is published in several anthologies and has two published novels, 'Quantum Confessions' and 'Fluence'.
His collection of sci-fi shorts, 'Eating Robots and Other Stories', was described by the 'Morning Star' as one of the top radical works of fiction in 2017.
Biohacked & Begging will be available at all good bookshops and online outlets in paperback and ebook. More information can be found about Stephen Oram at http://stephenoram.net/