---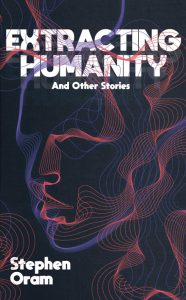 In this remarkably perceptive collection, Stephen Oram blends cutting-edge science and tech with everyday emotions and values to create 20 thought experiments with heart.
Extracting Humanity is a skilful exploration of smart currencies, memorials, medical care, treatment of refugees, social networks, data monitoring, and justice systems. Always without prescription or reprimand, these stories are simply the beginning of the conversation.
From an eerie haptic suit that Tommy must call Father, to a protective, nutritious bubble that allows Feng Mian to survive on a colonised Moon; from tattoos that will earn their wearers a mini-break in a sensory chamber, to Harrie anxiously awaiting AI feedback on her unborn child… These startling, diverse narratives map all-too-real possibilities for our future and the things that might ultimately divide or unite us.

---
"Each of the stories in Extracting Humanity takes real possibility, and inserts humanity. This is science fiction doing its day job, and doing it well." Ken MacLeod, author of Intrusion
"True to his title, Stephen Oram manages to maintain humanity and humour, even when he descends into post-human worlds where the boundaries between human and non-human are queasily blurred, a trick that reminded me sometimes of Philip K. Dick, though Stephen's science and technology feel more grounded and researched. The stories are varied in content and tone, and don't outstay their welcome." Chris Beckett, author of the Dark Eden Trilogy
"This is science-fiction rooted within the bounds of possibilities. These are stories to make you think about the next steps in our automated futures. Oram's writing places you at the human heart of all things technological." Dr. Kate Devlin, reader in artificial intelligence and society at King's College London and author of Turned On: Science, Sex and Robots.
---
Goodreads Reviews
---
available from all good bookshops and online stores