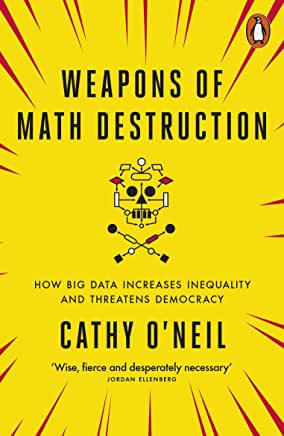 "Big Data processes codify the past. They do not invent the future. Doing that requires moral imagination, and that's something only humans can provide. We have to explicitly embed better values into our algorithms, creating Big Data models that follow our ethical lead."
Cathy O'Neil, Weapons of Math Destruction.
This is an easy book to read and it's a difficult book to read. It's easy because it's well written with many real-life examples and extrapolations. It's difficult because the examples show how pervasive and corrosive big data and machine learning has and can become.
However, the quote I've chosen gives an uplift of spirits; if humans take more interest, control and responsibility then the emerging world of artificial intelligence could be a good one.
I recommend this as essential reading for anyone with more than a passing interest in artificial intelligence and who wants to think a bit more about the ethical aspects of big data and machine learning.
After all as you've heard me say many times, 'the future is ours and it's up for grabs…'
---
photo credit: György Soponyai The Crystal Ball via photopin (license)