Press release – Extracting Humanity
Recently, I wrote a story for the first in a CyberSalon series of interdisciplinary, technology and policy investigations through science-fiction storytelling.
The first was on health and it's worth taking a look; you can read the summary, watch the event and read the stories.
Eva Pascoe, chair of CyberSalon, describes the four stories as: "ranging from Robo-Bot for Health Insurance app going tragically wrong (by Jule Owen), a food-whores brothel where people pay vagrants to eat the unhealthy food for them (by Stephen Oram), examining the case of elderly medical surveillance app gone rouge (Britta F Schulte), to being lured into swapping your health data for a rare chance to travel to space (Ben Greenaway).
Take a look, and have a think… what future do you want (to avoid)?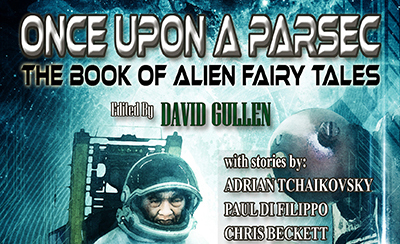 I'm chuffed. Once Upon A Parsec has been shortlisted for a BFS 2020 award. This Book of Alien Fairy Tales was edited by David Gullen and published by NewCon Press and it's where Alpha42 and the Space Hermits live.
The challenge was to write a non-human fairy tale or myth and I have to say it was surprisingly difficult. I chose an AI myth which meant I had to think especially carefully about the protagonist. Alpha42 was the result and I have to say I did develop strong feelings for Alpha42, probably because there's quite a personal angle to the story.
Here's hoping that Once Upon A Parsec wins this wonderful award.
---
Once Upon A Parsec: "Have you ever wondered what the fairy tales of alien cultures are like? For hundreds of years scholars and writers have collected and retold folk and fairy stories from around our world. They are not alone. On distant planets alien chroniclers have done the same. For just as our world is steeped in legends and half-remembered truths of the mystic and the magical, so are theirs."
---